Splitting the Loot
Back to Sherlock Holmes Chapter One
Splitting the Loot is a police case that begins by reading the notice board in the Police Station once you've completed The Collie Shangles case.
Read the Victim Profiles and Report No. 18-07 in the Casebook to familiarize yourself with the case. Three men were killed in a fight over stolen loot. The scene is located in a backyard on Engineers Ln between Ebernote St and Coalpit St.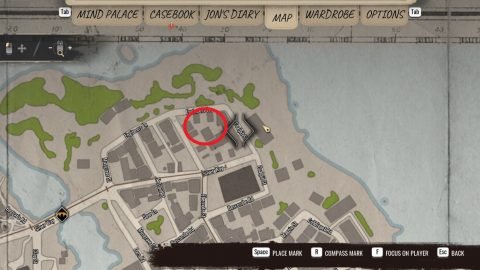 When you find the location a police officer will be standing guard at the entrance to the yard. He won't stop you going inside to take a look around.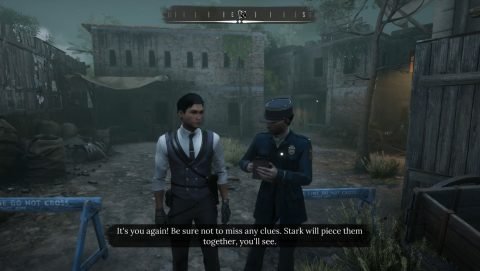 There's a lot to inspect here with many clues and points of interest. At point #1 is a broken bottle and coins. At point #2 you'll find bullet holes in the cart and blood on the wheel.
At point #3 you'll find a knife in a pool of blood. Turn it around to see it from both sides. At point #4 you'll find a shotgun and a knife in the tree.
At point #5 you'll spot broken glasses and a revolver. Open the cylinder of the revolver to find out how many bullets were fired. At point #6 you'll find bullet holes in the broken tree branch.
Once all the clues have been found it's time to reconstruct the scene. Take a look at the Casebook to go over all the clues once more. Here is the reconstruction.
5 & 6) At point 5 and 6 place the bald man with the glasses being shot in the stomach.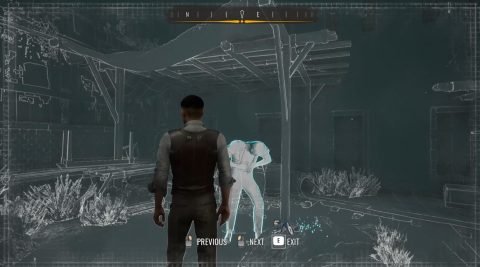 2) At point 2 by the cart place the man with the hat being shot in the leg.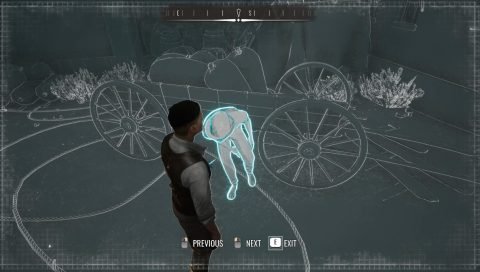 3) Where you found point #3 by the wall place the same man in the hat sitting down.
4) At clue #4 place the man with hair holding his throat.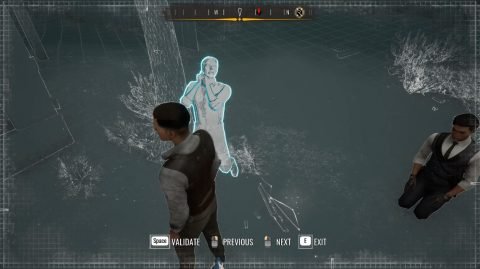 Sherlock will give the reconstruction but then say there's something missing. Open the casebook and track the objective "There's something I'm missing here".
Use concentration and look at the white outline by the man sitting down by the wall at point #3. The true killer was a police officer, Officer Schmidt. He was the first one on the scene and took the money for himself.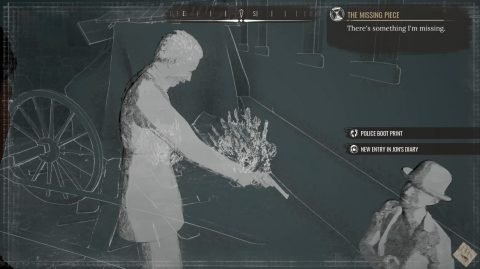 Return to the Police Station, talk to the clerk and the case will be completed. If you want to continue with the police cases check the notice board for the next mystery.
Back: Sherlock Holmes         Next: What Was Did in the Shadows