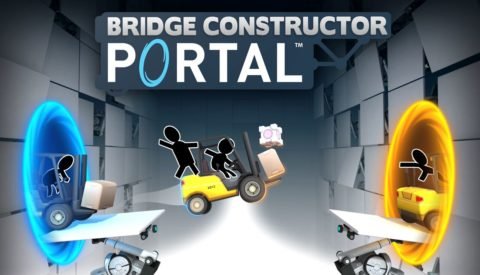 Bridge Constructor Portal is a new take on the Bridge Constructor game with the use of Portals from the Aperture Science Enrichment Center. This is an interesting merging of two game mechanics that should lead to some interesting puzzles and unique solutions.
Bridge Constructor Portal was developed by ClockStone and published by Headup Games on the 20th of December 2017. It features 60 levels with plenty of brain teasing challenges along the way. As an exclusive offer the publishers are offering the original Bridge Constructor for anyone who purchase Bridge Constructor Portal on Steam.
You begin the game as a new employee in the Aperture Science Labs with the given the challenge of testing the new chambers. You'll need to use all of the gadgets from Portal and Portal 2 like propulsion gel and cubes to bypass sentry turrets and acid pools to make it to the end of the test chambers.
The difficulty level increases as you progress to the later chambers and with the new Portal mechanics feels like an entirely new game from the original Bridge Constructor. If you enjoy Portal or Bridge Constructor you'll probably want to try out this game.
Bridge Constructor Portal has been very popular over the holiday season with almost 100,000 users on Steam and a rating of 90%. You can see gameplay images and the official trailer below.
Tagged with: aperture science • bridge constructor portal release • bridge constructor portal review • clockstone • headup games • puzzle game • valve
Filed under: Platform • Puzzle
Like this post? Subscribe to my RSS feed and get loads more!