Day of the Tentacle Remastered Walkthrough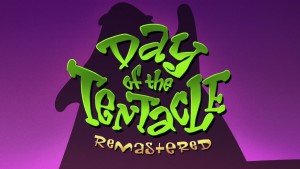 Day of the Tentacle Remastered is a remake of the original game released by LucasArts in 1993. It's a cartoon adventure game where three wacky friends must work together in order to save the day.
Day of the Tentacle Remastered is produced by Double Fine and features hand-drawn artwork, remastered audio and a copy of the original Maniac Mansion, the prequel to Day of the Tentacle.
If you enjoyed the classic music of the original you can still play through the game with the music from the 90s. It also comes with a commentary track by the creators Tim Schafer, Dave Grossman and others.
Walkthrough
Tips
At any point during the game you can switch between the original and remastered version. They story is exactly the same so you won't lose out on anything by doing this.
If you get stuck with one character switch to another. Sometimes to solve a puzzle you'll need to complete a different puzzle first.
Pick up everything you find. This goes without saying but you never know what you'll need later down the track.
Some of the cut-scenes contain clues for puzzles later on in the game. Make sure you watch them and take notice of what's going on.
To play Maniac Mansion go to Weird Ed Edison's room in the present time. Use the computer there to play the game.
Controls
Here's a list of the controls for the PC. The first two controls are Left Mouse Button for walk to/confirm and Right Mouse Button for open verb selection dial.


Day of the Tentacle Remastered was released on the 22nd March 2016. It's a remake of the original classic by LucasArts in 1993 and designed by Tim Schafer who made the original. Tim was working with LucasArts when he made the original but split with them in 2000 to found Double Fine Productions.
Some of Double Fine other productions include Psychonauts, Grim Fandango Remastered and Broken Age. In 2011 Double Fine Productions was awarded the game Developer of the Year award by the Official Xbox Magazine.