While Divinity: Original Sin 2 is in early access the full game is expected to be released later in 2017. Act 1 has already been released and includes about 8 to 10 hours of gameplay. In its current state there are some features missing and most of the single-player campaign is not yet available.
The full version of Original Sin 2 will include more difficulty modes, added content, new skill schools and a new playable race, the Undead. The editor will be released along with the main game so you'll be able to create your own stories and campaigns or play the creations of others.
Divinity: Original Sin 2 begins on the penal colony of Fort Joy where you have been imprisoned for your crimes of being a magic user. You'll be able to choose your race and gather a party to combat the forces of evil who want to bring the world into chaos.
Original Sin 2 will be available as a single-player campaign or as a cooperate multiplayer game for up to 4 people. It's built on the next-gen Divinity Engine with a new user interface and art style. It's just like the original Divinity games but has been upgraded and redesigned in almost every area.
Features of Divinity: Original Sin 2
The game features more freedom than previous incarnations. You'll be able to talk to anyone and go just about anywhere. You have greater freedom to play the character you want, this includes killing absolutely anyone in the game and destroying objects.
Divinity: Original Sin 2 uses a sophisticated RPG system and turn based combat. You can combine items to create new ones or merge in game objects or magic for explosive combinations, such as water and electricity to fry your opponents.
Each of the races have their unique skills and abilities. Currently you can play as either Human, Lizard, Elf or Dwarf, with the Undead race being released with the full version of the game.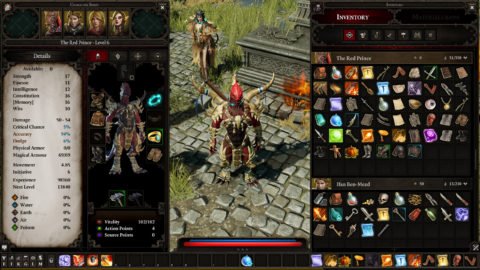 Original Sin 2 is powered by the Divinity Engine 3.0 with physics-based rendering. This combined with the dynamic music system creates a role-playing game with atmospheric appeal.
The game feels polished and has a rich and deep storyline. The new game mechanics, combat and character creation make playing Original Sin 2 a rewarding experience. So far D:OS 2 outpaces it's predecessor in just about every way. We'll have to wait for the full release to be sure but so far Larian Studios are on the right track.
If you want to be involved with the pre-release version of Divinity: Original Sin 2 you can buy it here for $44.99. The game will sell at the same price after the full release.
Filed under: Adventure • Fighting • Upcoming
Like this post? Subscribe to my RSS feed and get loads more!