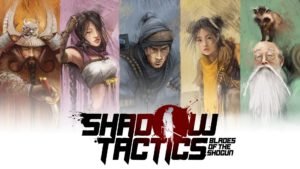 Shadow Tactics: Blades of the Shogun was released on December 7th 2016 by Daedalic Entertainment. Shadow Tactics is an indie strategy game and so far hailed as one of the best releases for 2016 with overwhelmingly positive reviews on Steam.
If you loved Commandos or just want a stealth, strategy game set in the feudal Japanese era than you'll love Shadow Tactics. It's thrilling to play and beautiful to look at as you send your team around beautiful hand-crafted environments where you try to overcome the odds.
The game is well polished with very few bugs to be found. It features smooth game play, great storyline and very good voice acting in either English or Japanese.
"Atmospheric and impossible to rush, Shadow Tactics is a fabulous game – a game I think I prefer to both Commandos 2 and Desperados. I can see myself replaying it regularly." – Rock Paper Shotgun.
According to the designers, Mimimi Productions, Shadow Tactics is a hardcore stealth game set in Japan in the time when it was run by a feudal military government. You'll take control of a team of specialists hiding in the shadows with katana's, shurikens, poison and and traps at your disposal.
There are many missions to play through and each of them has a non-linear approach. You'll need to evaluate your options and your team's strengths and weaknesses and choose the best path.
Shadow Tactics comes with 5 unique characters that have their own skill set. You'll be playing through missions where the odds are stacked against you. You'll need to find a way to take out your opponents using stealth and cunning. Attack the enemies from the rooftops or hide in the shadows.
The environments are beautiful and there are three difficulty settings to choose from. There is a demo version of Shadow Tactics: Blades of the Shogun available on Steam that lets you play through the first 2 levels. If you choose to buy the game your progress will carry over.
The UI is simple and intuitive to use and the graphics are presented in a top-down isometric style. The presentation is gorgeous and the game works out of the box as it should. Shadow Tactics gets a big thumbs up for those who like stealth-strategy games.
Tagged with: shadow tactics blades of the shogun • shadow tactics pc • shadow tactics release • shadow tactics review
Like this post? Subscribe to my RSS feed and get loads more!