For a short time you'll be able to get discounts of up to 70% the recommended retail price for PC and XBox games! Games include Doom PC, Fallout 4, Fifa 17 PC, Watch Dogs 2, Batman: Arkham Knight, Dishonored, Star Wars: Battlefront and many more.

Once you select your games make sure you enter the code: CDKEYSBLACK10 to lock in your discount. You'll then be given the Steam Key so that you can unlock the game in your Steam library. Click here for the Black Friday PC Game Sale.
How to Activate Games in Steam
Unlocking games in your Steam account with a CD Key is very simple. First login to Steam and then click on 'Games' at the top right. Select 'Activate a Product on Steam' and you'll be given a chance to enter the CD Key.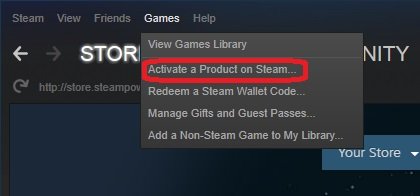 The process only takes a few seconds and then you'll be able to instantly download your new game. Enjoy your new games and let us know if you have any issues.
Filed under: Action • Adventure • Discounted • fantasy • RPG • Strategy
Like this post? Subscribe to my RSS feed and get loads more!