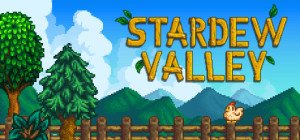 Stardew Valley is a charming country RPG published by ConcernedApe on the 27th of Feb 2016. It's an Indie game and simulates life on a farm. You've inherited a plot of land that's been overgrown and need to bring it to life and make it a hub for the community.
The reception for this game has been overwhelmingly positive and it's currently the top seller on Steam. If you're into Indie, agriculture, crafting and simulation games then this may be worth a look. You can check out the Stardew Valley Walkthrough here.
Stardew Valley Features
Stardew Valley is an open ended game that allows you to raise animals, grow orchards and crops and craft machinery. As you progress with the game your skills will improve and you'll discover new recipes.
The five skills in Stardew Valley are combat, farming, foraging, mining and fishing. As you level up your skills will increase and you'll be able to unlock new areas.
There are over 30 NPCs to interact with in the valley, each with their own personality and schedule. Attend seasonal festivals such as the haunted maze and luau. Once you get to know the local residents you'll be able to marry your favorite and bring them back to help you on the farm.
Explore the underworld. Travel deep underground to find powerful weapons and materials. There's also dangerous monsters down there so be careful how deep you go!
Stardew Valley has over 100 crafting recipes and gives you the option of customizing the look of your character and home.
Stardew Valley Screenshots
When it comes to simulation games the gameplay and content are often more important than the graphics. While the graphics are charming they're certainly not flashy. Here's a few screenshots to give you an idea of what the game is like.
Pros
Great game mechanics like seasons, weather systems and natural disasters.
Large areas to explore such as the desert, mine and sewers.
Satisfying gameplay as your grow your crops, mine and forage.
Customize and expand your house.
Feel like a part of the community and participate in unique events.
Upgradable gear and tons of content.
Cons
Fighting system could be better.
NPCs stop talking to you when they've run out of dialogue.
Pet system could be expanded. Currently only dogs and cats allowed as pets.
Overall Stardew Valley is a rich and satisfying agriculture sim with plenty to do and explore. You'll get many hours of gameplay out of this game before you feel like you've exhausted all of the content. I hear the mines alone have about 80 levels to explore with lots of secrets, gems and equipment to find.
If you like this game you might also like Harvest Moon for the SNES and Wii or for a more serious game the Farming Simulator 2013 for the PC.
Tagged with: stardew valley • stardew valley features • stardew valley game • stardew valley pc • stardew valley review • stardew valley steam
Like this post? Subscribe to my RSS feed and get loads more!