Stardew Valley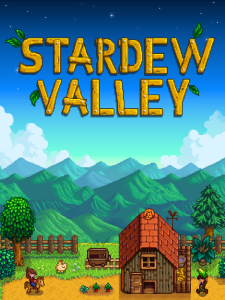 Stardew Valley is a farming simulator and RPG similar to Harvest Moon and Rune Factory. There's lots to explore in this game including the Town, Mines, Sewer and Skull Cavern. There's tons of quests to complete, festivals to attend and people to get to know. You can even marry if you want to!
Stardew Valley was published by Chucklefish, the same people who released Starbound so if you like the gameplay and graphics of Starbound you'll probably enjoy Stardew Valley.
In this Stardew Valley walkthrough we'll begin by taking a look at the game mechanics. There's a lot to discover if you haven't played these kinds of games before. Then we'll have a look at the some of the locations like the Haunted Maze, Mines and the Calico Desert. As I get the time I'll include various items, recipes and other tidbits of information. Enjoy!
Game Mechanics
Locations
Items
Birthdays – A list of all the NPCs birthdays in the game

Stardew Valley is an agriculture and farming sim with RPG elements similar to Harvest Moon. It was released on the 27th of Feb 2016 by Indie developer ConcernedApe. The publisher, Chucklefish Games, is also the publisher of the very popular Starbound game.