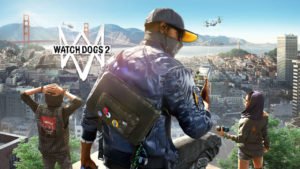 Watch Dogs 2 is an action/adventure game set in a dynamic open world where you play the role of Marcus Holloway, a hacker, who needs to take down a group of criminal masterminds who want to take over the city.
Watch Dogs 2 was developed and published by Ubisoft and was released on the 15th November 2016 for the PS4 and Xbox One and on the 29th of November 2016 for the PC. Thankfully Watch Dogs 2 runs a lot smoother on the PC than its predecessor, Watch Dogs, which was released back in 2010. This isn't to say that it will run super smooth for you but the graphics do seem to be better optimised this time around.
The game is set in the San Francisco Bay Area and is twice as large as the previous game. The driving mechanic has been updated, allowing you to operate cars, trucks, motorbikes, boats, etc. On top of this you can make your way around the city with your parkour skills.
There are different ways to approach the game and three categories of items to help you along the way. They're divided into Stealth, Aggressor and Trickster items. These allow you to either aggressively complete your missions with 3D printed weapons, or use stealth to evade enemies and get the job done.
One unique feature of Watch Dogs 2 is the ability to hack into any number of devices and have an immediate affect in the game world. Every mobile phone in the game can be hacked, as well as traffic lights, cars, cameras and quadcopters. You can turn traffic lights on or off or send cars spinning out of control to create a distraction.
Watch Dogs 2 is played in third-person perspective. Marcus has a choice of around 700 pieces of clothing to wear which can be purchased from stores in game. There are 12 main missions you need to finish to complete the game and around a dozen or so optional side quests. Each of the missions can become quite involved and Ubisoft have created a good blend of action and stealth.
In the first week of release Watch Dogs 2 become the second-best selling video game in the UK but it was still down about 80% from the original game. While the CEO of Ubisoft is disappointed in the sales he believes that the game will still be a success once players begin posting their reviews.
By and large Watch Dogs 2 has received positive reviews with an average score of 8/10. Before you purchase Watch Dogs 2 make sure you check to see if there's a discount over at cdKeys here.
Tagged with: ubisoft watch dogs • watch dogs 2 pc • watch dogs 2 release • watch dogs 2 review
Filed under: Action • Adventure
Like this post? Subscribe to my RSS feed and get loads more!