Samorost 3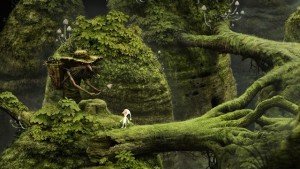 Samorost 3 is a beautiful point-and-click adventure game set in a strange new world. Each scene is painstakingly detailed and the result is simply breathtaking. The Samorost games have no dialogue, instead you take control of a space-faring gnome who ventures out to new worlds and moons.
There's a hint system in Samorost 3 that will hopefully make the game a little less frustrating if you do happen to get stuck. You can also read the walkthrough below for a full solution to the game.
At the beginning of the game you're given a trumpet. This is your most useful item and provides a way for you to communicate with the denizens of the worlds you will visit. When you 're not sure what to do use the trumpet on the circular symbols indicating there is something you can speak with in that location.
Samorost 3 Walkthrough
Part 1: First Planet
Part 2: Asteroid and Second Planet
Part 3: Grey Tree Moon
Part 4: Third Planet
Part 5: Fourth Planet

Samorost 3 was released on March 24th, 2016 by Amanita Design. It follows in the footsteps of the previous games but is a much longer game with gorgeous high definition art work. Samorost 3 is the third full-length game by Amanita design. The other two being Mechinarium and Botanicula.
Samorost 3 seems to get a lot of it's inspiration from the classic Gobliiins games. It features some weird and whacky puzzles and you'll meet some interesting characters along the way. If you like Samorost 3 you can play the first game in the series, Samorost, for free. Samorost 2 is currently discounted and can be purchased for a few dollars on GOG.