Blood and Wine
Back to Witcher 3
Blood and Wine is the second expansion for Witcher 3 and takes place in the land of wine known as Toussaint. It includes around 30 hours of new adventures and is around the same size as Velen and Novigrad in the main game.
Geralt is called upon by the Duchess of Toussaint to investigate a series of strange killings. It appears a beast is loose and is terrorizing the kingdom. You'll need to get to the bottom of these murders and find out who, or what, is responsible. Along the way you'll find new gear, meet old and new friends, discover a few secrets and play Gwent with a new faction, the Skellige deck.
Blood and Wine can be played during or after the main game. It's recommended for characters who are level 34 and above. To begin this expansion pick up the contract and make your way to Holloway, a small town in Velen. There you'll meet two knights who will take you to the kingdom of Toussaint. It's there that your adventure will begin.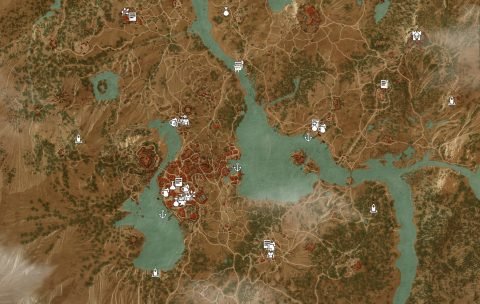 Blood and Wine Main Quests
Envoys, Wineboys
The Beast of Toussaint
Blood Run
La Cage au Fou
Where Children Toil, Toys Waste Away
Wine is Sacred
The Man from Cintra
Capture the Castle
The Night of Long Fangs
Beyond Hill and Dale… or Blood Simple
What Lies Unseen
Tesham Mutna
Burlap is the New Stripe
Pomp and Strange Circumstance
Be It Ever So Humble
Back: Witcher 3