Level 4 – Meet Your Doom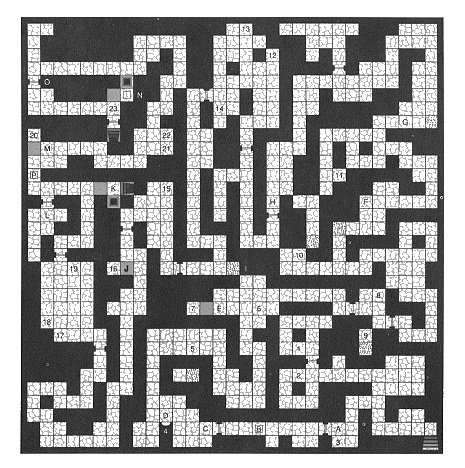 Treasure/Items
Gold Coin
Gold Coin
Axe, Cheese and Waterskin
Gold Key
Gold Coin
Gold Coin
Drumstick and Blue Magic Box
Two Scrolls
Drumstick
Teowand
Small Shield
Basinet
Leather Jerkin and Pants
Flask
Rapier
Drumstick and Neta Potion
Leg Mail
Elven Boots
Flask
Drumstick, Hosen and Torch
Bow
Gold Coin
Flask and Horn of Fear
Level 4 Walkthrough
Once again food is definitely not a problem on this level and you may find yourself leaving food behind. Every Screamer and Magenta Worm will drop food for you so eat it while you can. The Magenta Worms will poison you so practice your Cure Poison Potion with all of your champions.
You start the level in the very south east corner of the map. You'll take a winding path around to find the first and then the second staircase down.
You'll meet more Rock Piles on this level. I find the best way to deal with them is to weaken them with the Poison Foe spell.
Aside from Rock Piles you'll face Screamers, Magenta Worms, a Giant Wasp and a Ghost. For the Ghost you'll need to cast the Weaken Non Material Beings spell.
There's not much else to say here as the level is fairly linear. Take your time and move through the Magenta Worms steadily.
As I said earlier there are two sets of stairs leading down. You want to take the staircase that is slightly south of the first to enter Level 5.
You should have some spare Gold Keys by now but if you don't you can pick up another Gold Key located at item 4 on the map. It's hidden in a pipe in the wall.
To get through the iron gate at C press the hidden button on the left side of the passageway to teleport closer to the gate and quickly side-step twice to make it through the gate.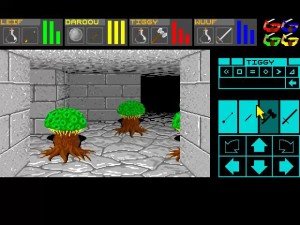 Towards the end of the level you'll find the Screamer Room at L. This is a good source of food that you can come back to later on as the Screamers will re-spawn here over time.
Once you have reached the stairs head down to Level 5 – Treasure Stores.