Space Quest 6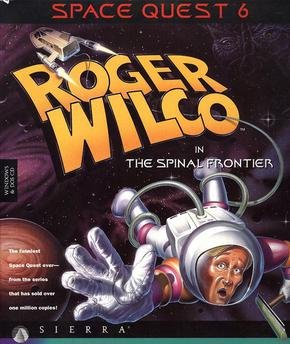 Space Quest 6 is a classic point and click adventure game by Sierra On-Line. If you've played the previous games you can probably guess that Roger Wilco is currently working as a Janitor. This time aboard the SCS DeepShip 86.
After going for shore leave down on Polysorbate XV he's kidnapped. Roger must figure out who his kidnappers are and save the day once more.
SQ6 plays in much the same way as previous incarnations of the game. The graphics are much better and the user interface is a little different. One of the puzzles requires you to have the book that came with the game but I'll include all details and solutions for each of the puzzles in the walkthrough below.
Space Quest 6 Walkthrough
The Streets of Polysorbate XL
Kidnapped
Aboard the DeepShip
Searching for Stellar
Confronting Sharpei

Space Quest 6 was designed by Scott Murphy and Josh Mandel. It was released in 1995 for MS-DOS, Windows and the Macintosh and is still available today through Gog.com and comes in a package which includes Space Quest 4, 5, and 6.