Skills
Back to Disco Elysium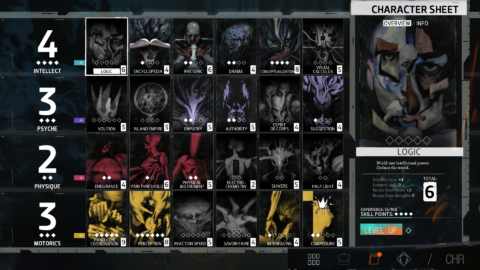 Skills determine what you're good at and what you're not. Even the least used skills have over 500 skill checks throughout the game. There are two types of skill checks, Red Checks and White Checks.
Red checks can only be tried once but failing them isn't necessarily a bad thing as it can lead to another positive outcome. White Checks can be tried again if you've raised your skill level by at least a point since the last attempt.
There are four basic categories of skills, Intellect, Psyche, Physique and Motorics. Each of these is further divided into six sub skills. The attribute points you assign at the beginning of the game are the skill caps for each of the sub skills. These caps can be raised during the game by researching thoughts.
Intellect
Logic – Raw intellectual power
Thought Bonuses: Kingdom of Conscience (Learning cap raised to 5); Date of Birth Generator (Learning cap raised to 4)
Clothing Bonuses: FALN Pipo Pipo (+2); Samaran Conical Hat (+1); Flip-up Glasses The Auditor (+1); Interisolary Dress Shirt (+1)
Encyclopedia – Knowledge of the world
Thought Bonuses: Lonesome Long Way Home (+1 while researching)
Clothing Bonuses: Dick Mullen's Hat (+1); Mega-Bino's Prescription Lenses (+2)
Rhetoric – The art of persuasion and intellectual discourse
Thought Bonuses: The Suicide of Kras Mazov (+1); Cleaning out the Rooms (+1); Advanced Race Theory (Learning cap raised to 5)
Clothing Bonuses: Medal the Setting Sun (+1); White Polo Shirt (+1)
Drama – Play the actor and detect lies
Thought Bonuses: None
Clothing Bonuses: Bow Knot (+2); Leather Jacket Pissf****t (+1); Party Dragon's Silk Robe (+1)
Conceptualization – See art in the world
Thought Bonuses: Advanced Race Theory (+1)
Clothing Bonuses: Saramirizian Lounge Jacket (+1); White Satin Shirt (+1)
Visual Calculus – Reconstruct crime scenes
Thought Bonuses: Some Kind of Superstar (Learning cap raised to 6)
Clothing Bonuses: Neat Office Shades (+1); RCM Commander's Jacket (+1)
Psyche
Volition – Keep your morale up
Thought Bonuses: Magnesium-Based Lifeform (+2); Caustic Echo (+1 while researching); Kingdom of Conscience (Learning cap raised to 5)
Clothing Bonuses: Eight-Eyed Teratorn Tie (+1); Fairweather T-500 Cuirass (+1)
Inland Empire – Hunches and gut feelings
Thought Bonuses: Cleaning Out the Rooms (+1); Motorway South (+1); Cop of the Apocalypse (Learning cap raised to 6)
Clothing Bonuses: Eight-Eyed Teratorn Tie (+1); Horrific Necktie (+1); Sunglasses Sub-Insulindic Rendezvous
Empathy – Understand others
Thought Bonuses: Ace's High (+1 with Kim); Ace's Low (+2 with Kim); Inexplicable Feminist Agenda (+1)
Clothing Bonuses: Army Surplus Winter Scarf (+2); Jamrock Biker-Cop Sunnies (+1); Mesque Banger's Red Brogues (+1); Pinball Maker's Coat (+1)
Authority – Assert yourself
Thought Bonuses: Finger on the Eject Button (+2); Inexplicable Feminist Agenda (+2 towards men while researching); Overproductive Honour Glands (Learning cap raised to 5)
Clothing Bonuses: Fairweather T-500 Greaves (+2)
Esprit de Corps – Understand cop culture
Thought Bonuses: Ace's High (+1); Ace's Low (+1)
Clothing Bonuses: Disco-Ass Blazer (+1); RCM Commander's Jacket (+1); RCM Patrol Cloak (+1)
Suggestion – Charm others
Thought Bonuses: Finger on the Eject Button (+2); Cleaning Out the Rooms (+1); Finger Pistols (9mm) (+1 while both hands empty); Some Kind of Superstar (Learning cap raised to 6)
Clothing Bonuses: Interisolary Suit Jacket (+1); Signal-Blue Naval Coat (+1)
Physique
Endurance – Keep on keeping on
Thought Bonuses: Volumetric Shit Compressor (Learing cap raised to 4 and unlocks white checks)
Clothing Bonuses: FRITTTE Plastic Rain Coat (+1)
Pain Threshhold – How much pain you can take
Thought Bonuses: Anti-Object Task Force (+1); Guillaume le Million (+1); Rigorous Self-Critique (Learning cap raisef to 6)
Clothing Bonuses: Fairweather T-500 Cuirass (+1); FALN Faln Windbreaker (+1); Mesque Banger's Silk Scarf (+1)
Physical Instrument – Strong and healthy
Thought Bonuses: Coach Physical Instrument (+2)
Clothing Bonuses: FALN modular Track Pants (+1); T-Shirt Man From Hjelmdall (+1)
Electro-Chemistry – Party time
Thought Bonuses: Some Kind of Superstar (Learning cap raised to 6)
Clothing Bonuses: Fingerless Gloves (+1); Flare-cut Trousers (+1); Party Dragon's Silk Robe (+1); Pour L'Homme Labourer Jeans (+1); Shades of Self-Destruction(+1);
Shivers – Tune in to the city
Thought Bonuses: The Bow Collector (+3)
Clothing Bonuses: RCM Patrol Cloak (+1); Polar Anorak (+1); Scented Scarf (+1); T-Shirt Man From Hjelmdall (+1);
Half Light – Threatening posture
Thought Bonuses: One More Door (+1)
Clothing Bonuses: Itchy Pants (+2); Fairweather T-500 Helmet (+1); FALN Faln Windbreaker (+1); FALN Ultra Series Gloves (+1); Leather Jacket Fuck the World (+1);
Motorics
Hand-Eye Coordination – Hit the mark
Thought Bonuses: Fairweather T-500 (+2 vs. enemies in armor); Bringing of the Law (Learning cap raised to 6 and automatically pass all passive skill checks)
Clothing Bonuses: FALN Arrower Shirt (+1); FALN Ultra Series Sneakers (+1); Pinball Maker's Coat (+1);
Perception – Let no detail go unnoticed
Thought Bonuses: Col Do Ma Ma Daqua (+3); Apricot Chewing Gum Scented One (+2); Searchlight Division (+2); Lonesome Long Way Home (Learning cap raised to 5)
Clothing Bonuses: Amphibian Sports Visor (+1); Franconigerian Cavalry Boots (+1);
Reaction Speed – Quick off the mark
Thought Bonuses: Finger Pistols (9mm) (+1);
Clothing Bonuses: FALN Ultra Series Sneakers (+1); Orange Bum Hat (+1); Royal Carabineer Pants (+1);
Savoir Faire – Sneak and stun
Thought Bonuses: Detective Costeau (+1); The Fifteenth Indotribe (Learning cap raised to 6)
Clothing Bonuses: FALN Modular Track Pants (+1); Oversized Superstar Sunglasses (+1);
Interfacing – Pick locks and pockets
Thought Bonuses: Arno van Eyck (+1);
Clothing Bonuses: Fairweather T-500 Gauntlets (+2); Yellow Gardening Gloves (+1)
Composure – Keep a poker face
Thought Bonuses: Some Kind of Superstar (Learning cap raised to 6)
Clothing Bonuses: Green Snakeskin Shoes (+1); Dynamic Winderbreaker Surf (+1); Polar Anorak (+1);
Back: Disco Elysium               Next: Thought Cabinet