Thought Cabinet
Back to Disco Elysium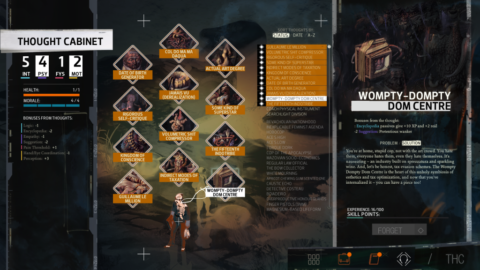 Thoughts can be unlocked in a variety of different ways. Sometimes failing a check results in the possibility of exploring a thought so don't be afraid to try and fail.
Most thoughts will give you a buff to one skill or another but not all of them. If you want to forget a thought after internalizing it you will need to spend a skill point. There are a maximum of 12 thought slots at any one time.
There are two possible bonuses, a research bonus and a thought bonus. The research bonus takes effect while you're trying to internalize the thought. The thought bonus takes effect once the research has been completed.
Ace's High
Found: Shoot down the corpse in the yard and choose first dialogue option
Research Bonus: +1 Empathy towards Kim
Thought Bonus: +1 Empathy towards Kim; +1 Espirit de Corps
Research Time: 2h 45m
Aces Low
Found: Shoot down the corpse in the yard and choose second dialogue option
Research Bonus: +2 Empathy towards Kim
Thought Bonus: +2 Empathy towards Kim; +1 Espirit de Corps
Research Time: 2h 45m
Actual Art Degree
Found: Choose enough art related dialogue options
Research Bonus: -1 Perception
Thought Bonus: -1 Hand-Eye Coordination; Conceptualization passive checks heal +1 Morale and give +10XP
Research Time: 1h 30m
Advanced Race Theory
Found: Listen to Measurehead
Research Bonus: -1 Drama
Thought Bonus: +1 Concepualization; Learning cap for Rhetoric raised to 5
Research Time: 1h 40m
Anti-Object Task Force
Found: Keep hitting physical objects
Research Bonus: – 2 Pain Threshhold
Thought Bonus: +1 Pain Threshhold; All Physical learning caps raised by 1; Attacking physical objects heals you
Research Time: 2h 15m
Apricot Chewing Gum Scented One
Found: Open hidden compartment in clipboard and smell the Ledger's Note. Find the Apricot Chewing Gum Wrapper in the Pour L'Homme Labourer Jeans and examine the wrapper.
Research Bonus: -1 Reaction Speed
Thought Bonus: +2 Perception
Research Time: 5h 5m
Arno Van Eyck
Found: After giving Egg Head the tape found in the tree agree with Acele about Arno Van Eyck
Research Bonus: +1 Interfacing
Thought Bonus: All MOT White Checks unlocked
Research Time: 0h 50m
Bankruptcy Sequence
Found: Successfully pitch a bad idea
Research Bonus: -1 Empathy
Thought Bonus: INT check failures give +1 Real
Research Time: 5h 15m
Boiadeiro
Found: Talking to Manana (Union guy overlooking the strike)
Research Bonus: +1 Physical Instrument
Thought Bonus: -1 Espirit de Corps; Cigarettes give +2 INT
Research Time: 6h 30m
Bringing of the Law
Found: Refer to yourself as the lawbringer
Research Bonus: -1 Rhetoric
Thought Bonus: -1 Rhetoric; learning cap for Hand/Eye Coordination raised to 6; automatically pass all Hand/Eye Coordination passive checks
Research Time: 2h 55m
Caustic Echo
Found: Open hidden compartment in ledger, throw away card immediately and think about it
Research Bonus: +1 Volition
Thought Bonus: -1 Authority; +300 XP on completion; All MOT learning caps raised by 1
Research Time: 10h
Cleaning out the Rooms
Found: Pass a 16 white check with Soona (Day 3+)
Research Bonus: None
Thought Bonus: +1 Suggestion; +1 Inland Empire; +1 Rhetoric
Research Time: 5h 35m
Coach Physical Instrument
Found: Fail the boule throw attempt with Rene Arnoux
Research Bonus: -2 Encyclopedia
Thought Bonus: +2 Physical Instrument if not wearing a shirt; -1 Encyclopedia
Research Time: 0h 40m
Col Do Ma Ma Daqua
Found: From Tuesday onwards speak to Lena in the Whirling-In-Rags about the cryptid and then go outside and listen closely
Research Bonus: None
Thought Bonus: +3 Perception; -1 Encyclopedia
Research Time: 7h 10m
Cop of the Apocalypse
Found: Build up Apocalypse Cop rank (keep thinking about the apocalypse)
Research Bonus: -1 Rhetoric
Thought Bonus: Learning cap for Inland Empire and Shivers raised to 6
Research Time: 6h 55m
Date of Birth Generator
Found: Wonder when you were born
Research Bonus: None
Thought Bonus: Learning cap for logic raised to 4; -1 difficulty to all Physique passive skill checks
Research Time: 7h 15m
Detective Costeau
Found: Refuse your real name and refer to yourself as Detective Costeau
Research Bonus: -2 Conceptualization
Thought Bonus: +1 Savoir Faire; +1 Espirit de Corps
Research Time: 2h 30m
Fairweather T-500
Found: Steel the Fairweather T-500 Greaves and then clean them in the kitchen
Research Bonus: -1 Savoir Faire
Thought Bonus: +2 Hand/Eye Coordination
Research Time: 3h 30m
Finger on the Eject Button
Found: Talk to Lilienne's twins about suicide and want to kill yourself
Research Bonus: +2 Authority; +2 Suggestion
Thought Bonus: A suicide thought every evening
Research Time: 2h
Finger Pistols (9mm)
Found: Talk to Sileng when you have 5+ composure and whip out your finger pistols
Research Bonus: -2 Savoir Faire
Thought Bonus: +1 Reaction Speed; +1 Suggestion when both hands are empty
Research Time: 1h
Guillaume Le Million
Found: Mirror in Hotel Room of the Whirling-In-Rags
Research Bonus: -1 Logic
Thought Bonus: +1 Pain Threshhold; All PSY learning caps increased by +1
Research Time: 4h 30m
Hardcore Aesthetic
Found: Form the church nightclub
Research Bonus: -2 Interfacing
Thought Bonus: +1 Volition; +1 Endurance
Research Time:
Hobocop
Found: Garte
Research Bonus: -1 Composure
Thought Bonus: Learning cap for Shivers raised to 6; More money for selling tare bottles
Research Time: 4h 20m
Homo-Sexual Underground
Found: Smoker on the balcony
Research Bonus: None
Thought Bonus: Stop obsessing about sexuality
Research Time: 8h
Indirect Modes of Taxation
Found: Choose capitalist dialogue options or try to make money
Research Bonus: -2 Empathy
Thought Bonus: -1 Empathy; Receive +1 Real from some ultraliberal dialogue options
Research Time: 1h 45m
Inexplicable Feminist Agenda
Found: Convince Kim you're a feminist
Research Bonus: +2 Authority towards male NPCs
Thought Bonus: +1 Empathy; -1 Electrochemistry
Research Time: 3h 45m
Jamais Vu
Found: Speak to Joyce about your reality
Research Bonus: None
Thought Bonus: -1 Encyclopedia; +1XP for every orb clicked; all INT caps raised by +1
Research Time: 3h 25m
Kingdom of Conscience
Found: Choose neutral dialogue options; pick up pants near fishing village and wear them
Research Bonus: -2 Half Light
Thought Bonus: Learning cap for Volition and Logic raised to 5; Moralist dialogue options heal +1 Morale
Research Time: 1h 25m
Lonesome Long Way Home
Found: Cafeteria, Whirling-in-Rags; Wonder where "home" is
Research Bonus: +1 Encyclopdia
Thought Bonus: Learing cap for Perception raised to 5; Speed gives +1 PSY
Research Time: 6h 5m
Magnesium-Based Lifeform
Found: Talk to Cuno about Magnesium
Research Bonus: -1 Shivers
Thought Bonus: +2 Volition; -1 Logic
Research Time: 1h 15m
Mazovian Socia-Economics
Found: Choose Communist dialogue options
Research Bonus: -2 Visual Calculus
Thought Bonus: -1 Visual Calculs; -1 Authority; Left-wing dialogue options give +4 XP
Research Time: 3h 10m
Motorway South
Found: Talk to old pine rep and then lady driver about the void
Research Bonus: -1 Visual Calculus
Thought Bonus: +1 Inland Empire; All INT white checks unlocked
Research Time: 8h 10m
One More Door
Found: Try (and fail) to unlock the bunker door north of the church
Research Bonus: +1 Half Life
Thought Bonus: -1 Half Life; All PSY white checks unlocked
Research Time: 0h 45m
Opioid Receptor Antagonist
Found: Make anti-drug comments
Research Bonus: -2 Electrochemistry
Thought Bonus: No positive effects from drugs; no negative effects from alcohol
Research Time: 0h 55m
Overproductive Honour Glands
Found: Refuse bribes, keep your word, keep your honour
Research Bonus: -4 Drama
Thought Bonus: Learning cap for Authority raised to 5
Research Time: 0h 20m
Regular Law Official
Found: Be as normal and boring as possible
Research Bonus: -2 Inland Empire
Thought Bonus: -1 Inland Empire; -1 Shivers; All learning caps raised to 3
Research Time: 1h 20m
Remote Viewers Division
Found: Choose ESP dialogue options
Research Bonus: -1 Perception
Thought Bonus: -1 difficulty to all PSY passive checks; -1 Drama
Research Time: 6h
Revacholian Nationhood
Found: Choose traditionalist/nationalist dialogue options
Research Bonus: -1 Composure
Thought Bonus: -1 Morale when choosing Nationalist dialogue options; +2 FYS (Physique) when under the influence of alcohol
Research Time: 9h 10m
Rigorous Self-Critique
Found: Apologize for everything and feel sorry for yourself
Research Bonus: -1 Authority
Thought Bonus: Learning cap for Pain Threshhold raised to 6; INT and PSY red check failures heal +1 Morale; FSY and MOT red check failures heal +1 Health
Research Time: 6h
Searchlight Division
Found: Talk to the women at the Fishing Village about missing people
Research Bonus: None
Thought Bonus: +2 Perception
Research Time: 3h 15m
Some Kind of Superstar
Found: Refer to yourself as a superstar
Research Bonus: -2 Logic
Thought Bonus: -1 Logic; Learning cap for Visual Calculus, Suggestion, Electrochemistry and Composure raised to 6
Research Time: 1h 10m
The Bow Collector
Found: Choose Bow Collector dialogue option when talking to the Reptilian Brain
Research Bonus: -1 Authority; -1 Hand/Eye Coordination
Thought Bonus: +3 Shivers
Research Time: 6h 10m
The Fifteenth Indotribe
Found: Talk to Joyce about her company
Research Bonus: None
Thought Bonus: +10 cents per green orb clicked; Learning cap for Savoir Faire raised to 6
Research Time: 5h 55m
The Insulindian Miracle
Found: Joyce Messier – Tell her about the Unions plan and listen to her talk about the discovery of these islands
Research Bonus: None
Thought Bonus: Unlock all locked white checks
Research Time: 7h 45m
The Litany of Contact Mike
Found: Talk to Acele about Contact Mike (Day 3+)
Research Bonus: -1 Conceptualiztion; -1 Drama; -1 Logic
Thought Bonus: All FYS (Physical) white check marks unlocked
Research Time: 15m
The Precarious World
Found: Speak to Leha about dice-making
Research Bonus: All red skill checks fail
Thought Bonus: Critical success thresholds lowered by one (you automatically pass all checks on an 11 or 12 rather than just a 12)
Research Time: 4h
The Suicide of Kras Mazov
Found: Examine Bust of Kras Mazon in the Capeside Apartments and talk to Kim about it.
Research Bonus: -1 Rhetoric
Thought Bonus: +1 Rhetoric; recover +1 Morale whenever you fail a white check
Research Time: 4h 45m
Volumetric Shit Compressor
Found: Throw up twice when looking at the corpse
Research Bonus: None
Thought Bonus: Learning cap for Endurance raised to 4
Research Time: 30m
Waste Land of Reality
Found: After learning Advance Race Theory return to Measurehead and insist that you'll quit drinking
Research Bonus: -2 Physical Instrument
Thought Bonus: -1 Physical Instrument, Inland Empire and Suggestion; +1 Psyche; no positive effects from alcohol
Research Time: 20h
White Mourning
Found: Read the entire note inside your ledge
Research Bonus: -1 Authority
Thought Bonus: All MOT learning caps raised by 1; +20% zoom out distance
Research Time: 5h
Wompty-Dompty Dom Centre
Found: Talk to the guy admiring the mural on the boardwalk
Research Bonus: -1 Suggestion
Thought Bonus: Encyclopedia passive skill checks give you 10XP and +2 Real; -2 Suggestion
Research Time: 0h 42m
Back: Disco Elysium               Next: Skills