Chapter 12: Renewed
Back to the Unravel Walkthrough
Chapter 12: Renewed
If you're playing through for the first time this level will automatically start when you complete Chapter 11: Last Leaf. There are five secrets in this chapter but all of them are very hard to see. I recommend watching the video for the exact locations of the secrets.
The level is filled with little orbs. You can lasso the orbs to fly up a little bit. The direction depends on which way you lasso them. There's also the achievement called Flow for using 25 orbs in a row without touching the ground.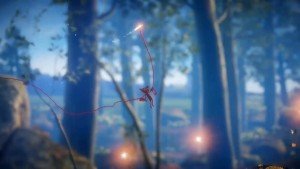 The first three secrets are up in the trees. You'll need to catch the orbs to get up to them. You'll know where the secrets are because you'll see a line of orbs leading up to them. If there are no orbs you're looking in the wrong spot.
Secret 1: Up a tree with quite a few orbs at the bottom of it.
Secret 2: Climb onto a log and then take the orbs up and to the right.
Secret 3: From an area with lots of flowers head up and to the left.
Secret 4: Is found just after the log. Rappel down and you'll spot it right by a little boat.
Secret 5: Climb back up and take the orbs up the tree here to find the fifth secret.
There are really no puzzles in this level so continue to the right until you reach the garden and complete the game.
If you enjoyed this game you may also like Unravel 2, Trine: Enchanted Edition or Trine 2.