The Rotfiend Contract
Back to Witcher 2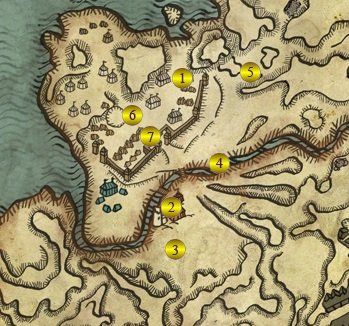 Notice Board
Brothel Camp (Sambor)
Corpses
Corpses
Corpses
Arena
Campfire
The Rotfiend Contract is recieved from the Notice Board outside the Cantina (1). You'll need to torch the bodies outside the camp to stop the rotfiends from feasting on them. To gain knowledge of rotfiends you can visit Sambor in the Brothel Camp (2).
There are nine bodies that you need to dispose of in groups of three. You'll find them at locations #3, #4 and #5. At each location you'll need to kill a small group of rotfiends. They explode after you kill them so dodge away after the final blow.
Once the bodies have been torched make your way back to the camp and visit Proximo (6 or 7). He'll be either outside the arena or by a campfire. The reward for completing the contract is 200 Orens and 100 experience points.
Back: Poker Face: Kaedweni Camp                    Next: Chapter 3