One on One: Flotsam
Back to Chapter 1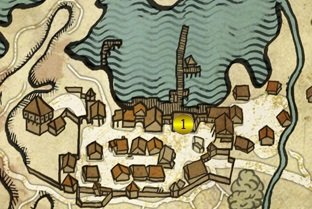 Tavern
Fistfights are organized by some of the locals on the Tavern's lower floor (#1). Unlike The Witcher, fistfights in Witcher 2 use QTEs. You'll need to click the right buttons to successfully defeat your opponent. They're quite easy so you shouldn't have any trouble becoming the local champion and winning a few Oren in the process.
Approach the fighters and speak with one of the men, Sheridan. He asks whether you want to join in the local tournament. Your first fight will be against Stycho the Sot. You can bet up to 10 Orens for this fight. After defeating him your second match will be against Fliparse and you have a betting cap of 15 Orens.
After defeating the first two fighters you'll be approached by King Ziggy who offers you a place in a local tournament against better fighters. You'll need to meet him after dark outside the tavern to join the tournament and begin the quest Fight Club.
Speak with Sheridan again for the last opponent, Tidy Tib. Once again another easy match with maximum bet of 25 Orens. You gain no experience for defeating these fighters.
Back: Mystic River                    Next: Poker Face: Flotsam