One on One: Vergen
Back to Chapter 2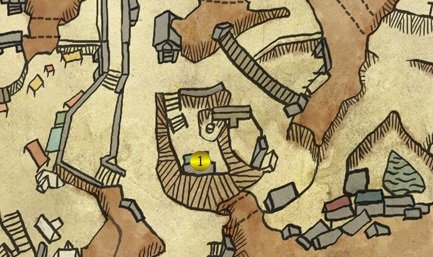 Tavern
Similar to Flotsam the town of Vergen has an organized fighting tournament in the Tavern (#1). If you defeat all of the opponents you'll be crowned the local champion.
To get started speak with Sheldon who organizes the fights. Your first opponent will be Young Zis. You can bet up to 20 Orens for this fight. Once you beat him speak with Sheridon to begin the second fight against Stel Placeholdern. For this fight you can bet up to 50 Orens. The last fight is against Percy Boruk and you can bet up to 60 Orens.
Once you defeat all three local fighters you'll be approached by a nobleman, Sir Silgrat. He won't fight the commoners but you have proved yourself and so he wants a match. Once you defeat him he'll be outraged and promises to get you back for shaming him. This continues in the quest A Score to Settle which you'll encounter in Chapter 3.
Back: Oathbreaker's Outfit [Dark]                    Next: Poker Face: Vergen