Trine 3: Artifacts of Power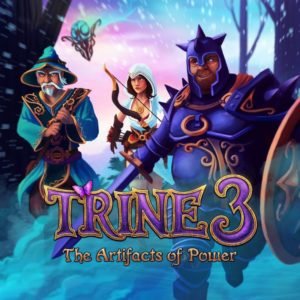 Trine 3: Artifacts of Power is the third in the highly popular Trine series and brings back the action in a 3D world. Trine 3 is an action platformer with gorgeous visuals and music.Once again you take control of the three heroes Pontius the Knight, Zoya the Thief and Amadeus the Wizard.
Unlike previous games the three heroes are unable to level up or gain new items or abilities. It would been nice to see such features added in Trine 3 but maybe the developers will bring back the role-playing aspects of the game in future version.
Nevertheless this is still a beautiful game to play and a worthwhile investment for the Trine series. Click below for the full walkthrough for each of the chapters. There are 9 main story chapters and 10 bonus mini-chapters.
Trine 3: Artifacts of Power Walkthrough
Mini-Chapter: A Forgotten Parchment
Mini-Chapter: A Squabble in the Jungle
Chapter 6: Chronicles of the Guardian
Mini-Chapter: A Wizard's Nightmare
Mini-Chapter: An Academic Invasion
Mini-Chapter: A Brush with Death
Mini-Chapter: A Wizard's Epiphany
Mini-Chapter: The Quest for Cake
Mini-Chapter: A Whisper of Evil
Mini-Chapter: A Dangerous Outing
Chapter 8: The Beast in the Trees

Trine 3: The Artifacts of Power was released in 2015  by Frozenbyte. There's much to love about this game including the fantasy/medieval environments, beautiful graphics and lighting effects and the wonderful background music.
While I still consider Trine 3 a very enjoyable game, at the time of its release it didn't meet up to gamer's expectations as Trine 3 seems to cut off about half way through. The developers did run out of funds and so released half of the game and left it at that. The roleplaying aspects of the game such as gaining experience points and leveling up your characters with new abilities were also missing. Hopefully one day Trine 3 will be completed as I think it has a lot of potential to be a great game.
For walkthroughs of the previous games you can find Trine: Enchanted Edition here and Trine 2 here.