The Master of Disguise
Back to Sherlock Holmes Chapter One
Enter the Police Station and speak to the clerk Mr. Stark. The Police are looking for the thief who robbed Mrs. Nini. You're to visit her and see if you can get an accurate sketch.
Mrs. Nini's atelier (workshop) is not far away. You can find it nearby at the intersection of Knights Rd and Trinity Way. Enter the shop and talk to Mrs. Nini.
Instead of making a sketch you'll try on the clothes and makeup to look like the thief. Enter the back room and grab all the clothes and accessories. Before imitating the thief you can earn an achievement by dressing as the old man in the painting. Jon gives you the challenge to dress like him.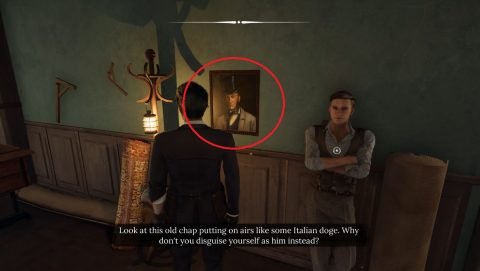 Go into the "Wardrdobe" tab and wear the White Suit, Top Hat, Long Sideburns and Old Man Make-Up. Go out to see Mrs. Nini to surprise her.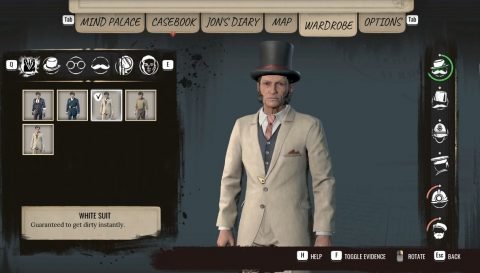 Return to the back room and change your costume again. This time we'll attempt to look like the thief. Put on the Ugly Beige Suit, Bowler Hat, Square Glasses, Pencil Mustache and Fake Bruises.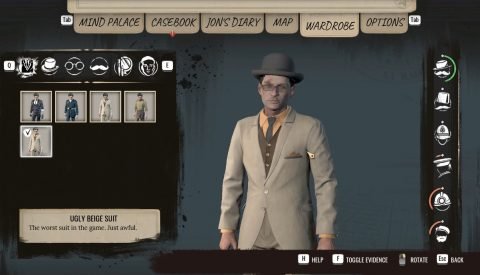 Talk to Mrs. Nini and she'll confirm you look like the thief. She'll also give you a Police Uniform. Return to the Police Station and talk to the clerk. This completes the case and the Police Archives will now be open for you to use.
Return: Sherlock Holmes Chapter One          Next: A Mother's Love