A Rough Landing
Back to Chapter 1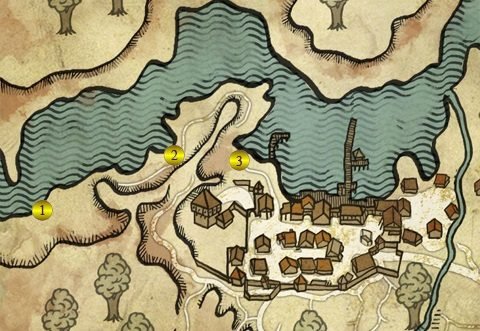 Landing
Iorveth & Ambush
Entrance to Flotsam
After escaping from the dungeons of the LaValette's you'll land with Triss and Roche at #1. You can't land and the main docks because some kind of beast is blocking access. You'll need to make your way into the town of Flotsam on foot.
Jump off the ship and loot the Chest before following along behind Triss and Roche. After a little while you'll hear the sound of a flute. Roche will correctly identify it as elven.
Iorveth is waiting just ahead, standing on a fallen tree (#2). A heated discussion will follow about the Scoia'tael's role in helping the kingslayer and Triss will attempt to paralyze Iorveth with a lightning spell. Unfortunately it misses and other Scoia'tael will attack from the bushes.
Triss throws up a shield but almost loses consciousness in the process. Roche will carry her while you fight off any Scoia'tael that get too close. Stay inside the shield or you'll be shot with arrows. If you remain within the shielded area for the whole time you'll gain an ability called Cover which gives you 10% damage reduction.
The Elves will attack mostly from behind but a few will also come from the front. Once you reach the town entrance (#3) the Scoia'tael will cease their attacks. Once you introduce yourselves to the local guard the quest will end and you'll gain 1,000 experience points. The guard also mentions something about the execution of a non-human and a bard. This begins the By the Gods – Stringing up Sods quest.
Back: Chapter 1                    Next: At a Crossroads: Scoia'tael